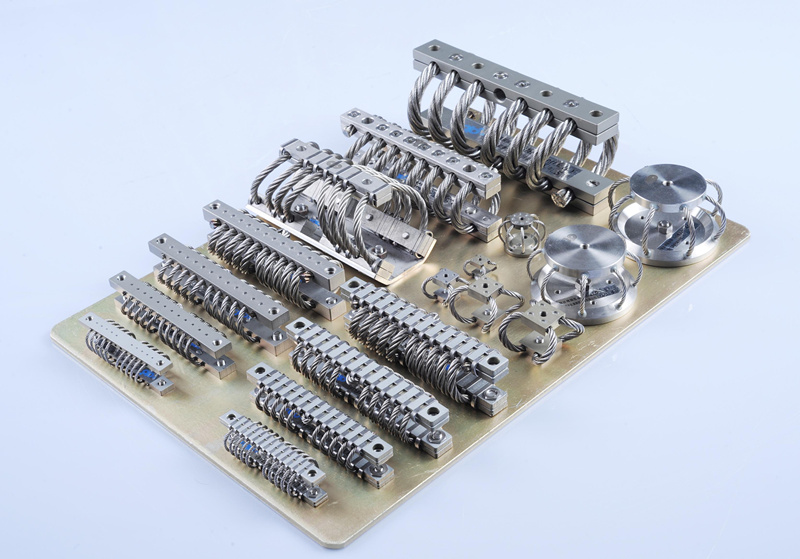 As a major player in China market for more than 2 decades, DPFLEX is specialized in providing customized shock, vibration and noise control solutions as well as high-quality O.E.M production.
1.Product History
Our R&D work on GG Series All-Metal Wire Rope Isolator started in 1983. In 1990, the product was listed as one of top national R&D achievements.
On top of the R&D work, we also took the leadership in making several military standard for electronic and marine industry, i.e., The General Specifications For All-Metal Wire Rope Isolator (SJ20593-96) and Specification For Wire Rope Vibration Isolator Of Ships (GJB6412-2008), which was published on 1st Octoboer.2008.
2. Typical Anti-Shock/Vibration Applications
● Shipping Cases & Containers
● Shipboard Electronic Equipment
● Electronic Cabinets
● Transportation Shelters
● Avionics
● Pump, Generator & Compressor
● Nuclear Power Plant
● Chemical Processing Equipment
● Sensitive Mobile Equipment
● Seismic Isolation Application
3. Product Features
● Good vibration isolation performance under maximum safe shock.
● Corrossion resistant λ Long life span
● Isolation protection in all axis
● Low frequency vibration isolation
● 3-Dimensional displacement restricted
4. GG Series Product Family
GGT/GGTC  Series Wire Rope Isolator
GGD Series Wire Rope Isolator
GGQ Series Wire Rope Isolator
GGTX  Series Wire Rope Isolator
5.Industrial Standard
GJB 6412-2008 Specification For Wire Rope Vibration Isolator Of Ships
GJB150-86 Environment Test Methods for Military Device
SJ20593-96 The General Specifications For All-Metal Wire Rope Vibration Isolator
("GJB" means military standard. Equivalent foreign standards are MIL-STD-810(US), MIL-S-901(US), BV0440/85(GER) and BV0430/85(GER).)